Summer is here, and you know what that means: swimsuit season, which can bring on feelings of low self-confidence. You eat well and you exercise, so why are you struggling to lose that stubborn fat around your middle, on your chin, or on your arms or legs? We understand this is a frustrating process, which is why we offer CoolSculpting at Pure Dermatology and Aesthetics.
CoolSculpting is a dermatologist-approved procedure which safely delivers precisely controlled cooling to problem areas to gently and effectively target the fat cells underneath the skin. Dieter Manstein, MD and R. Rox Anderson, MD, scientists at Harvard University, discovered this process when they observed that some children who ate popsicles got dimples in their cheeks. They realized that the popsicles were freezing and eliminating small pockets of fat cells. This was the insight behind Cryolipolysis®, the proven science on which the CoolSculpting procedure is based.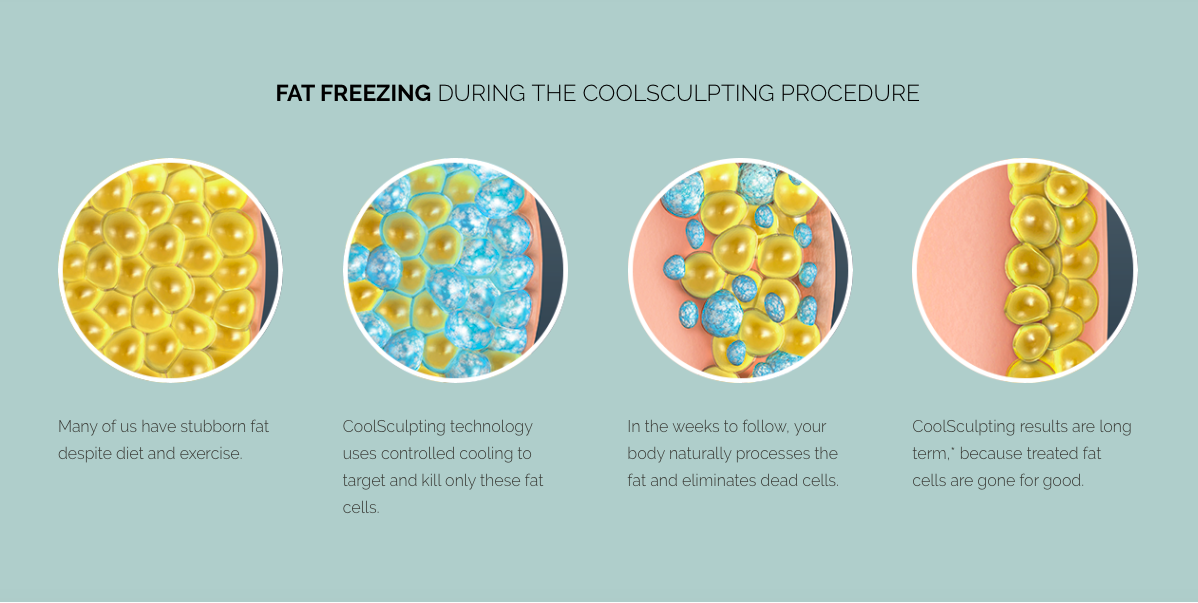 We know that you probably have lots of questions, so here are some answers to our most-commonly asked questions:
Why Should I Choose CoolSculpting?
CoolSculpting is the only FDA-cleared, non-surgical fat-reduction treatment that uses controlled cooling to eliminate stubborn fat. "It's non-invasive and there's no anesthesia," Joey Morris, Pure Dermatology's CoolSculpting Specialist, says. "It's the safest way to get rid of your fat."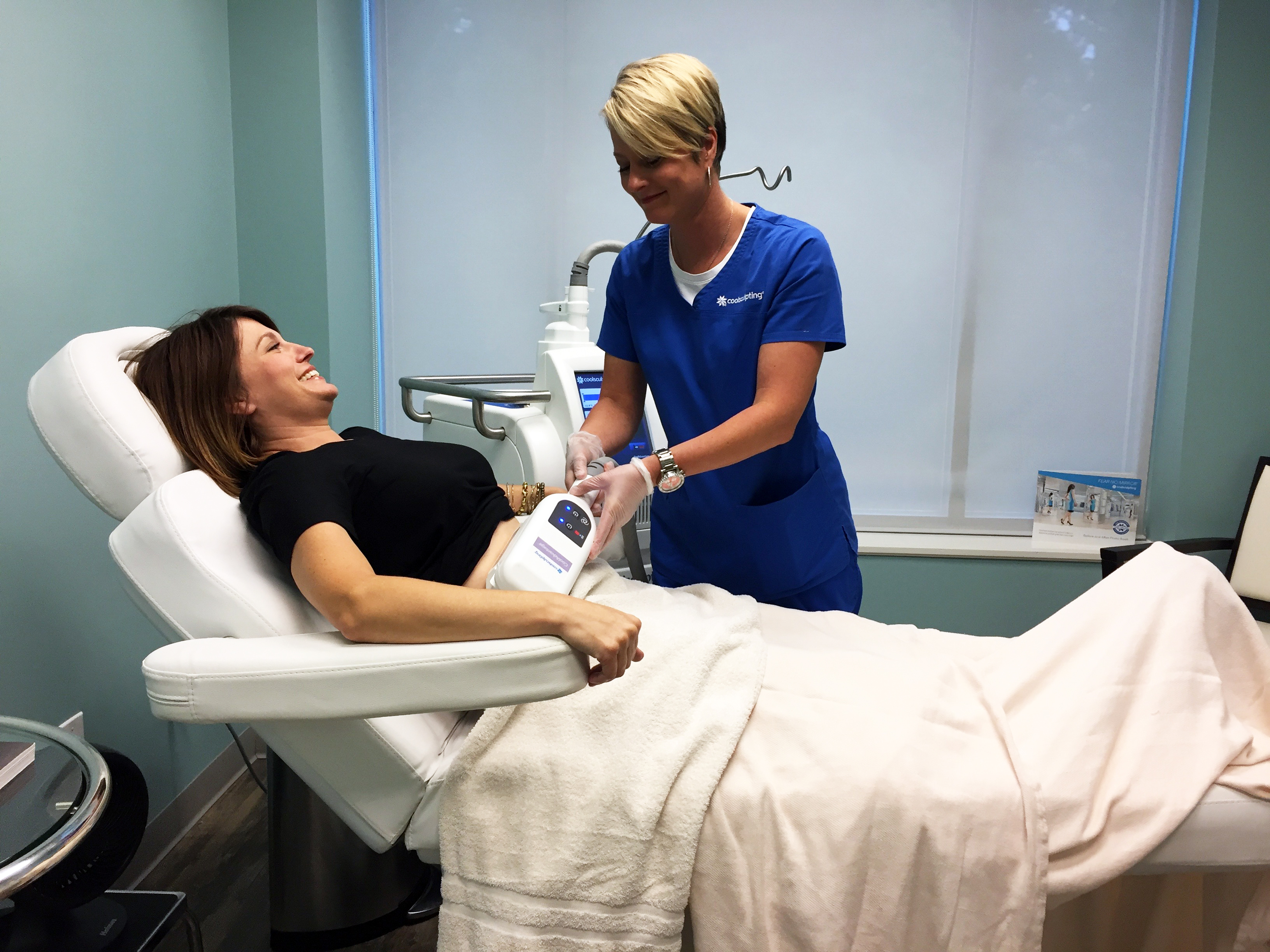 CoolSculpting Specialist Joey Morris begins a treatment
What is the process?
Our CoolSculpting Specialist will apply a gel pad to the area of focus to protect your skin. She'll then place the applicator on top of the pad, which acts as a vacuum and draws the skin up into the applicator cup. The applicator then delivers deliver controlled cooling to the targeted fat.
Does it hurt?
Most patients do not report any pain. You'll most likely feel tugging or pinching, as the applicator acts like a vacuum and sucks up the skin. You'll also experience a cool sensation, but this feeling usually subsides within 5 to 10 minutes as the area numbs. Some areas may be more uncomfortable than others.
What areas can I have treated?
The most common areas are the tummy, underarms, chin, back, arms, flanks, and inner and outer thighs.
How long will it take?
The applicator stays on each area for 35 minutes. The size of the targeted area determines how long the entire appointment will be. The stomach, back, arms, and legs require at least two 35-minute sessions per side.
Is there any recovery time?
Not at all. You can go to the gym, work, or home immediately after your appointment.
How long until I see results?
It can take up to 90 days to see the full results of your CoolSculpting Session. We'll have you come back to our office in 30 days for pictures, and then in 30-day increments for more pictures to document your results.
How many pounds will I lose?
We measure the success of CoolSculpting by inches, not pounds. After dieting and weight loss, fat cells get smaller but the number of fat cells stays the same. The CoolSculpting fat-freezing procedure actually reduces the number of fat cells in treated areas by about 20% to 25%. After your CoolSculpting treatment, you may not weigh less, but you'll look thinner and more sculpted.
Is this a permanent fix?
Fat cells treated by CoolSculpting are gone for good. However, it's important to maintain a healthy lifestyle by exercising consistently and filling your diet with healthy and nutritional food to keep you feeling and looking great!
---
For more information, you can visit www.coolsculpting.com or our CoolSculpting page.
If you're interested in giving CoolSculpting a try, we're excited to work with you. Pure Dermatology is a certified CoolSculpting practice, so we have lots of experience with this technology. Contact our office today to schedule a consultation.